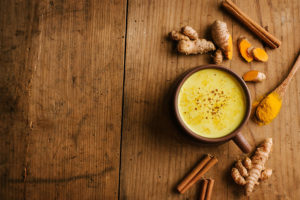 Ingredients:
500 ml almond milk (other nut milks or coconut milk are also nice, but rice milk is too thin for this recipe)
2 tsp turmeric
1/2 tsp cinnamon
1/2 tsp ginger
pinch nutmeg
pinch ground black pepper
optional pinch cayenne (if you can handle the zing)
optional raw honey to sweeten
Instructions:
Gently warm milk in a small pot on the stove. Add spices and mix through for 1 minute.
Pour into 2 mugs and sprinkle some extra nutmeg for garnish. Add an optional teaspoon of raw honey to sweeten.