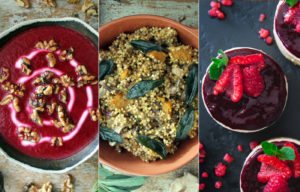 This creamy buckwheat risotto main dish is complemented by sweet butternut squash, mixed mushrooms and crispy sage. Nutritional yeast is blended with coconut milk yogurt and added to the risotto for extra creaminess and a subtle "cheesy" flavour.
Servings: 4 people
Prep Time: 10 minutes
Cook Time: 37 minutes
Ingredients:
84 sage leaves
4 tbsp nutritional yeast
600 grams. peeled and diced butternut squash (1 inch cubes)
3 tbsp. melted coconut milk
500 ml. hot vegetable stock
150 grams. mixed mushrooms, cleaned and roughly sliced
2 tbsp. coconut yogurt
2 tbsp. apple cider vinegar
1 1/2 cups buckwheat groats
1. small red onion finely chopped
1 clove of garlic finely sliced
1 tsp. dried sage
generous pinch of salt
pinch of black pepper
Instructions:
1. Preheat oven to 200 degrees Celsius, 180 degrees fan assisted.
2. Arrange the butternut squash cubes across a shallow oven tray and drizzle with 1 tablespoon of coconut oil. Roast for 15 minutes until tender.
3. Heat 2 tablespoons of coconut oil in a large pan over a medium heat. Add the onion, garlic and mushrooms and sweat until tender.
4. Add 2/3 of the roasted squash and all of the buckwheat to the pan. Season well and add the dried sage. Stir well to combine.
5. Add the hot stock to the pan and bring to the boil. Reduce to a simmer and cook until all the liquid has evaporated – about 15 minutes. Stir regularly.
6. Whilst the risotto cooks, add the remaining squash to a blender with the coconut milk yogurt, apple cider vinegar and nutritional yeast. Season with a little salt and pepper and blend until creamy.
7. Heat the remaining oil in a pan over a medium heat and add the sage leaves. Coat them in the oil and fry until crisp.
8. When all the liquid has evaporated from the risotto, add the creamy squash and yogurt mixture and stir through until well combined and the risotto is cooked through.
9. Scatter with crispy sage to serve.